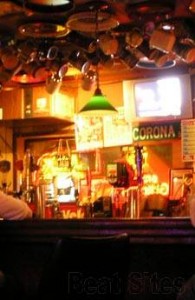 Champagne on Tap is Only the Beginning of The Homy Inn's Charm
Welcome to The Homy Inn, a laid-back neighborhood bar located at 1510 N. Saddle Creek Rd. in Omaha, Nebraska.
Established in 1956, our humble establishment has earned the reputation of being a local landmark, thanks in part to our signature "Champagne on Tap" and old-school collection of memorabilia.
We offer 25 varieties of microbrews, domestic brews and import brews on tap such as Blue Moon and Guinness along with over 100 different types of bottled beer.
Coupled with our famous peanuts served in a dog dish, it's your home away from home where you can kick back, watch the game and catch up with friends.
Decorated with vintage I Like Ike political pins, Elvis collectables and Jim Beam Decanter bottles from the 60's and 70's, The Homy Inn is loaded with conversation starters.
Hungry? The famous Sgt. Peffer's Italian Restaurant sits across the street and delivers the entire menu.
Whether you're fresh off the construction site or coming straight from the boardroom, or just need a break from the college classroom, you are welcome to come hang out at The Homy Inn- just leave the tie at home.